Social Activity Program – SPRING
08th April Saturday: Arrivals at Nevsehir Airport
There are morning, noon, and evening flights from (IST) Aiırport to (NAV) Nevsehir Airport. So you need to plan your journey according to those flights. You can purchase your flight ticket from your city to (NAV) Nevsehir Airport and your ticket agency would easily arrange the connecting flight times at Istanbul Airport. Should you have any questions on this you can always contact us.
Transfer by shuttles to the hotel, internal registration to the program, and check-in to the hotel. Dinner at the hotel.
09 April Sunday
GOREME OPEN AIR MUSEUM & ROSE VALLEY – Full Day Professionally Guided Tour (Included in the program fee)
The Göreme Open Air Museum is the crown jewel of Cappadocia's rich history. This small area contains the best churches in Cappadocia and several monastic complexes. For this reason, the Göreme Open Air Museum is Cappadocia's most popular tourist destination. This article explains the broader geographical, social, and historical context of the Göreme Open Air Museum.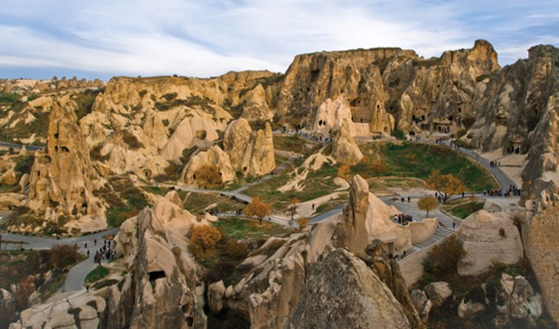 Rose Valley is Cappadocia's most beautiful natural wonder. Surreal rock formations, pinkish-red colors, and ancient cave churches make Red Valley a top destination in Cappadocia.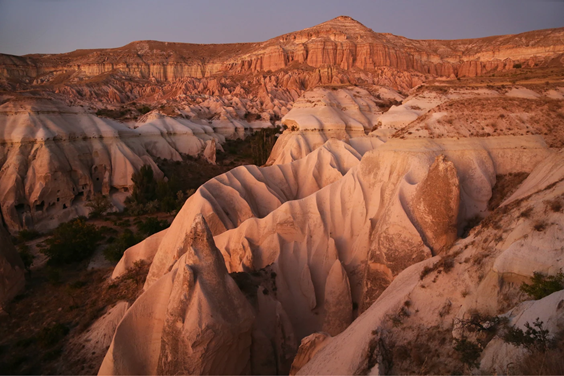 10 April Monday
Uchisar Castle and Pigeon Valley with Professional Guide
Departure from hotel: 14.30
Uchisar is situated at the highest point in Cappadocia and used to be in the most populated area of this settlement. The castle is one of the top Cappadocia attractions, featuring many rooms hollowed out into the rock.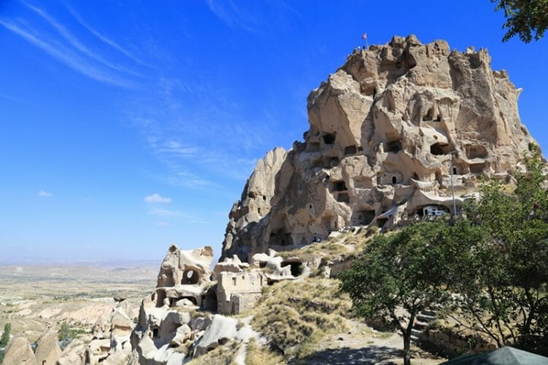 Most of the rooms, located on the north side of the castle, are used as pigeon houses (the droppings are used by farmers as natural fertilizer). There are a number of other pigeon houses in Pigeon Valley in front of Uchisar Castle, and it's possible to hike from Goreme to Uchisar through Pigeon Valley.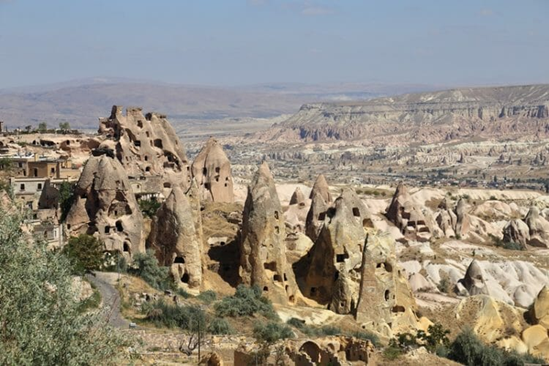 11 April Tuesday
Derinkuyu Underground City
One of the cultural highlights of the Cappadocia region is the subterranean settlements or "underground cities". As the region was subject to frequent invasions, these cities were built to provide shelter to citizens and contained rooms, kitchens, communal areas, cellars, storage rooms, wineries, churches, schools and so on. Derinkuyu is one of 150-200 known underground settlements in the Cappadocia region and is approximately 85 deep below ground.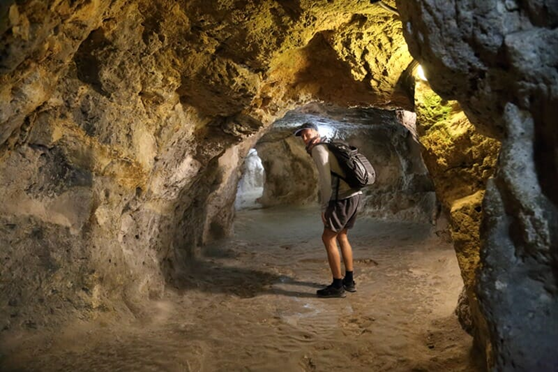 12 April Wednesday
ATV TOUR 2 Hours
Departure from Hotel: 14.30pm
Cappadocia ATV tour is indispensable for those who want to see the beauties of Cappadocia by motorbike, designed for those who want to experience the excitement. Tours are made to explore the uniquely scenic Cappadocia region, to experience an adventure on bumpy dusty soil tracks, to integrate with nature and to rest both your eyes and your soul in the blue of the sky and the red cover of fairy chimneys, away from asphalt roads and crowds.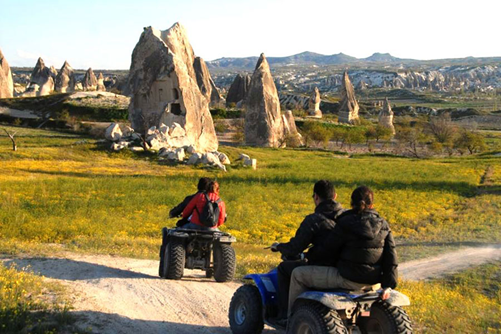 13 April Thursday
Horse Riding Tour
Departure from Hotel: 14.00 pm
You don't need to be a very good rider, it may even be your first experience. While the expert staff leads you and even your children, you will continue to discover the secret ways of Cappadocia. You can join Cappadocia Horse tours hourly or daily. You can ride horses on the paths where vehicles cannot enter, in the valley extensions, around the fairy chimneys and among the green village vineyards. On the horse tour; You can see the most beautiful valleys of Cappadocia, such as Kılıçlar Valley, Meskendir Valley, Rose Valley, Love Valley, Zemi Valley and Pigeon Valley. You will come across fairy chimneys in different structures on each route.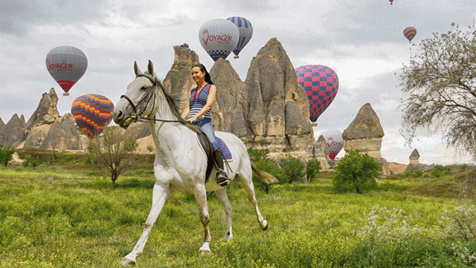 14 April Friday
SAFARI JEEP TOUR
Departure from the hotel 14.30
One of the most exciting adventures of Cappadocia is to visit the region with off-road vehicles on the Jeep Safari tour. Let the professionals show you the beauties of Cappadocia. Let our experienced drivers take you around places other tour operators only mention, in our Land Rover Jeeps. Let us take you to mysterious valleys, churches and other cultural places and reveal the wonderful hidden treasures of nature. There is no shopping break during our Jeep Safari tours, which are made without haste, and last for 2hours.On the Jeep Safari tour, we take you to places that you will find difficult and to magnificent valleys that are far, difficult to reach by normal vehicles and tour buses. With Jeep Safari, you will discover the unique landscapes of Cappadocia.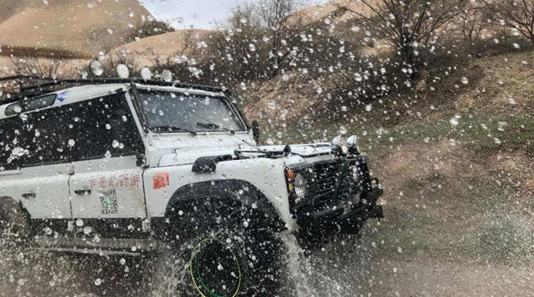 All social activity programs come with very reasonable prices, including transfers and guide Sunday program is included in the program package all the rest are optional. Once you complete your registration process, you will receive an 'Info Pack' and a 'To Do List' from us.
Delightful Cappadocia 2023 Spring School will leave you with numerous unforgettable memories. We cannot wait to meet you in this program and make you one of our 'Delightfuller'